Sunnyside Acura Service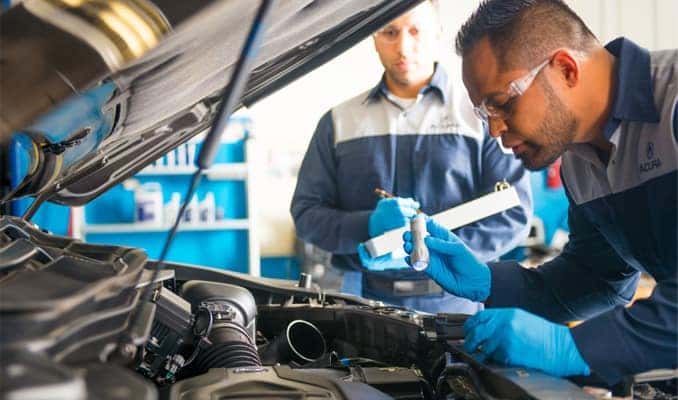 Acura Service Center in Nashua
SERVICE SPECIALS ACURA OIL CHANGE ACURA ALIGNMENT SERVICE ACURA TIRE CENTER ACURA PARTS & ACCESSORIES eStore ACURA MAINTENANCE MENUS
You need your vehicle to function for you every day to keep up with your busy life. For that to happen, you need to perform routine maintenance on your Acura vehicle, and that is where the Sunnyside Acura service team comes in. We can perform routine maintenance, as well as larger repairs on your Acura. Learn more about the importance of routine maintenance for your vehicle and why to choose Sunnyside Acura for service. You can even learn about how to schedule an appointment with us online.
Why Service with Sunnyside Acura
2021 Acura Precision Team Award Winner – 19 Time Recipient
Acura Certified Master Technicians
Factory Trained Service Consultants
Acura Accelerated Service – No Appointment Necessary
Complimentary Acura Loaner Vehicles
Scheduled Valet Service (pick up & drop off)
Complimentary 4% Rewards Program for Service & Parts
Full electronic communication including e-payment option
Multi-Car discounts
Complimentary Hand Wash and Vacuum with Service
Front line access to Genuine Acura Accessories
Climate Controlled Service Drop-off
Up to date lounge with complimentary Wi-Fi, Commercial Free TV Programming, Snacks, Starbucks Coffee
Fair, competitive, market value pricing for all our clients
The Importance of Maintaining Your Acura Vehicle
Routine vehicle maintenance can refer to many different things. This type of maintenance includes anything that needs to be done to your vehicle on a regular basis to keep it running as it should. One of the most common examples of routine vehicle maintenance is an oil change. A regular oil change keeps your engine functioning in good condition. Another example of routine maintenance would be a tire rotation. Tire rotations help you get the best use from your tires because they make sure that your tires wear more evenly so that they last longer.
At Sunnyside Acura, we have an experienced staff of service professionals that can help you with routine vehicle maintenance so that your vehicle keeps functioning for you. This routine maintenance can save you time and money in the long run because it can prevent larger problems with your vehicle.
To make sure that you are maintaining your Acura vehicle properly, you can reach out to us at Sunnyside Acura to see how we can help you. In the meantime, learn more about service and parts from Acura below.
All About the Acura Service Center in Nashua
Sunnyside Acura knows how integral your vehicle is to your daily life. To keep your vehicle in top condition, make sure to schedule oil changes and check-ups regularly. Our Sunnyside Acura Service Center has a high-tech facility designed to help prevent breakdowns and other issues. If you are in need of auto repair in Nashua, Sunnyside Acura is the place to go.
When you need Acura service-related help, you often need help right away. At Sunnyside Acura, we always listen to you and your service needs. For your convenience our Accelerated Service Department is available with no appointment necessary. Take the short drive from the Manchester NH, Lowell MA, and Concord NH areas to experience the Sunnyside Service difference today!
If you are looking to schedule service or maintenance, please click the button below. You will be asked to register the first time, so you are able to log in on your next visit. Use the "Quick Appointment" option to schedule your first visit, and at step 4 (of 4), make sure to input a username and password. We understand your time is important, which is why we have this new scheduling tool that will allow you to do your service scheduling at your convenience, 24 hours a day, seven days a week!
If you'd like to schedule your next service appointment over the phone, please call (603) 880-6550. Our Concierge team is standing by to answer your questions and get you in the door as quickly as possible.
SCHEDULE SERVICE SCHEDULE ACCELERATED SERVICECONTACT SERVICE
As an added value to our clients, Sunnyside Acura offers Complimentary Acura Loaner vehicles available for services that take two or more hours to complete (based on availability). Whether our service customers need to get to work, run an errand, would like to grab lunch or dinner, or browse the Merrimack Premium Outlets, Sunnyside Acura, Service Loaner vehicles will get you there.
Acura Service and Parts Research Center
Above, we talked about the importance of routine maintenance for your Acura vehicle. Below, we are going to highlight some of the specific types of routine maintenance and different parts or accessories you may need for your Acura vehicle. Check out some basic information below, as well as some more detailed information to help you research further.
Acura Oil Change
An oil change is one type of very important routine maintenance for your Acura vehicle. The oil keeps your engine running because it lubricates and cools the moving parts in the engine. Engine oil also removes dirt or other particles from your engine, which can prolong the life of the engine. You can learn more about oil changes for your Acura vehicle by checking out the links below.
Acura Tires
Tires are your vehicle's connection to the road, which makes them very important. Tires absorb road shock, give you traction, and help you change direction. However, if you do not have tires with proper traction, it can lead to accidents and damage to your car. You should regularly check the air in your tires, as well as the tire tread depth to be sure that your tires are capable of doing their job.
Acura Maintenance
Regular Acura maintenance keeps your vehicle working better for longer. Getting regular maintenance on your Acura can help to prevent problems, and it can help you catch problems before they become more serious. Check out the links below for more information on what you can do to maintain your vehicle.
Acura Brakes
Your brakes are made up of several parts that work together to stop your vehicle when you need it. Your Acura brakes include parts such as brake pads, brake rotors, brake lines, brake fluid, calipers, and more. It is important that all these parts function properly to help your vehicle function as it needs to. Routine brake maintenance can include regular inspections, replacing brake pads, checking brake fluid, and more.
Acura Accessories
Another part of updating your Acura could include adding needed accessories to your vehicle. There are Acura accessories that add style and function to your car. For example, body side molding can help your Acura MDX look great, and it can protect against door nicks. You could also add a roof rack or roof rails to your Acura SUV for carrying extra cargo.
Why Choose Sunnyside Acura for Service
Now that you know a little bit more about service and routine maintenance for your vehicle, we will tell you why you should choose us for servicing your Acura. Check out a few different reasons right here.
We Want to Help You – First, at Sunnyside Acura, we provide excellent customer service. We want to take care of you and your vehicle so that you can be safe out on the road in your daily life. We provide you with excellent customer service because we know how important our customers are.
Skilled Staff – At Sunnyside Acura, we also have a very skilled service staff. We have people that are highly trained and very competent. They are experts on your vehicle and the specific parts that go with it. You can trust our service staff with routine maintenance, as well as larger repairs. Our staff is always trained on the latest techniques and the newest technology so that you can get your vehicle back in no time!
Quality Service and Parts – We also focus on quality at Sunnyside Acura. Quality in service and parts helps us ensure your vehicle is running in top shape. We have original equipment manufacturer parts that are designed to go perfectly with your vehicle. You do not have to worry about substandard parts or service when you choose Sunnyside because you are getting the quality you deserve.
As you can see, there are some great reasons to choose Sunnyside Acura for servicing your vehicle. We have great customer service, a skilled staff, and we want to take care of you and your Acura. You can trust us with your vehicle, and we will have you back on the road in no time. You can reach out to us to schedule a service appointment today!
---
*Synthetic oil required on certain models. *To qualify for Complimentary NH State Inspections; client must have purchased the vehicle from Sunnyside Acura within the past ten years. Can not combine complimentary NH state inspection with any other offers, coupons or discounts. Sunnyside Acura reserves the right to cancel, or modify this program at anytime. See Sunnyside Acura sales or service associate for complete details.