2020 Acura RLX – New Hampshire

The Acura RLX is a large luxury sedan. This vehicle has been around for several years, and it has truly been a vehicle worth talking about. With an amazing style and a lot of great features, this sedan is great for commuting to work, driving for fun, and taking on an adventure.
Below, you can learn more about this luxury sedan and all that it offers you. We are going to take a closer look at the performance and engine options, the exterior, the interior, the technology, and the safety features standard and available on the 2020 RLX. Learn more below.
Performance and Engine Options
You get a sporty, efficient, and powerful performance with the 2020 Acura RLX. You have the choice of a gas-only powertrain and a hybrid powertrain for this vehicle. Both are capable and fuel-efficient, but they offer you a slightly different performance and some different features. Learn more about each of these below.
3.5-liter V6 Engine – The standard engine in the 2020 RLX is a 3.5-liter V6 engine. This engine is paired with a 10-speed automatic transmission, and it gives you 310-horsepower.
V6 Hybrid Engine – You also have the option of the Acura RLX Sport Hybrid. This vehicle has the 3.5-liter V6 engine, but that engine is also paired with three electric motors and a lithium-ion battery pack. This hybrid engine comes with a seven-speed dual-clutch automatic transmission, and it produces 377-horsepower.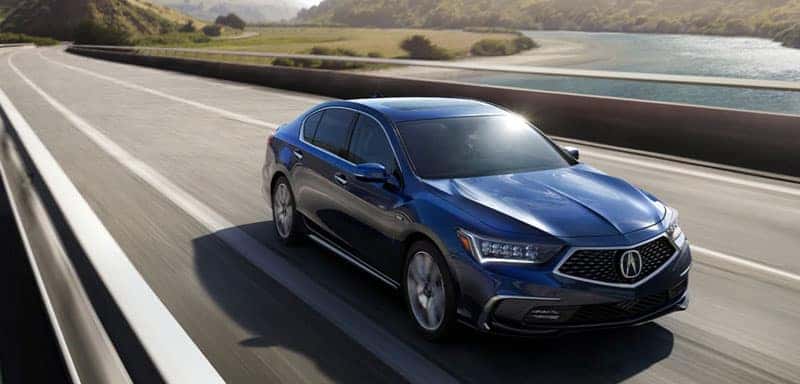 When it comes to fuel efficiency, the base Acura RLX model offers you great fuel economy and the hybrid option offers you even more impressive efficiency.
This vehicle also offers you great handling and capability. The vehicle comes standard with front-wheel drive and Acura's Precision All-Wheel Steer. However, the Sport Hybrid version gets Acura's Super-Handling All-Wheel Drive system; this gives you more stability, agility, and even better handling.
Both RLX engine options are impressive, you have to choose what is most important to you in terms of performance. If you have any questions about the performance you can get in the 2020 RLX, reach out to us at Sunnyside Acura.
Exterior
On the outside of the Acura RLX, you can find bold style and attention to detail. This car has an Acura signature Diamond Pentagon grille that has a bold shape and impressive detail. There are also premium paint colors for the 2020 RLX. You can get your vehicle in a Brilliant Red Metallic or a Majestic Black Pearl. Both of these paint colors provide a rich color and luster with the use of tinted clear coats to keep your paint looking great. For the wheels, you can find either 19-inch alloy wheels or two-tone Shark Gray machine-finished wheels. Then, on the rear of the exterior, there are Dual Chrome Exhaust Outlets, chrome accents, and LED taillights with a signature pipe style. This vehicle was designed to give you an unforgettable exterior style and function.
Interior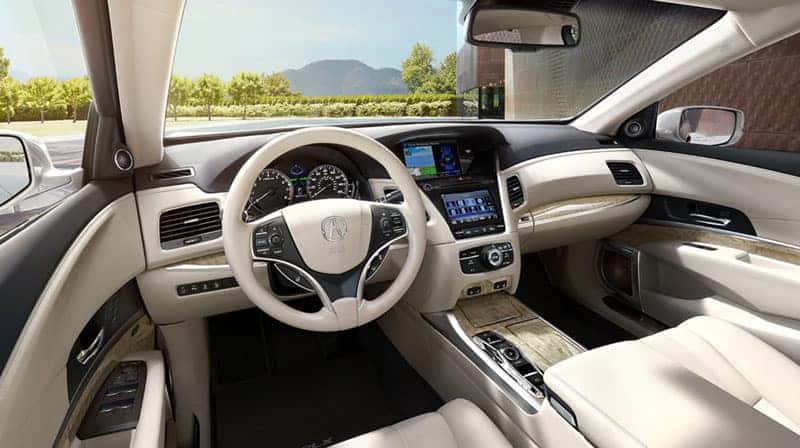 On the inside of the Acura RLX, you can find comfortable seating for five people in this large and spacious cabin. This large luxury car gives you leather upholstery and heated front seats standard. You also get elegant touches in the cabin like wood-grain and metallic finishes to complement each interior color option. You also get 12-way power adjustment standard on your seats and a GPS-linked tri-zone automatic climate control. A moonroof is another standard feature found in the Acura RLX.
When it comes to cargo space, The RLX gives you 14.9 cubic feet of space in the trunk. However, if you choose the hybrid option, you are down to just 12 cubic feet of storage space.
The 2020 Acura RLX also offers you two different package options. Your first package option is the Technology package and the second option is the Advance Package. Learn more about these below.
Technology – This package has an Acura ELS premium audio system, some great driver assistance features, and GPS-linked climate control.
Advance – In the Advance package, you add features like ventilated front seats, heated rear seats, a heated steering wheel, a rear door side sunshade, a Krell premium audio system with 14 speakers, a head-up display, a head-up warning, front and rear parking sensors, and a surround-view camera.
As you can see, there are a lot of great interior features. There are even more great features when you take a look at the technology standard and available in the 2020 Acura RLX. Learn more about this technology in the next section.
Technology
The 2020 Acura RLX is also quite advanced in the technology features that it offers you. There are a lot of great standard features as well as some great technology upgrades. Learn more about this below.
For technology, the RLX offers you a dual-screen infotainment system. This dual-screen system has an upper 8-inch screen that shows the navigation system. Then, there is a lower 7-inch touchscreen display that is for other media functions and infotainment. Other standard technology features in the 2020 RLX include a navigation system, Bluetooth, a USB port, a 14-speaker stereo system, and satellite radio. You also get push-button start and proximity keyless entry standard in the RLX.
The 2020 RLX has some great technology that helps make your life easier and your driving experience better. For example, the head-up display helps you keep your eyes on the road by projecting a transparent image on the lower windshield that has keep vehicle information like vehicle speed and turn-by-turn directions. Also, with Acura, you get technology like AcuraLink Connected Services. AcuraLink allows you to connect your vehicle with your smartphone for purposes like sending out emergency notifications after an accident, remotely locking or unlocking your vehicle, and more.
Safety
Safety is another impressive part of the 2020 Acura RLX. This vehicle was built with safety in mind, and it also has some great safety technology features to give you advanced safety protection. Learn more about how you can stay safer with the 2020 RLX right here.
Standard safety technology includes a rearview camera, a pre-collision warning and braking system, blind spot monitoring, lane keep assist, rear cross traffic alert, a road departure mitigation system, and adaptive cruise control. There are also other safety technologies you can upgrade to get. These available features include a head-up display, front and rear parking sensors, and a surround-view parking camera system. Check out some of the specifics of these safety technologies below.
Surround-View Camera – This system includes four exterior cameras that work together to give you a 360-degree visual of your surroundings. When you put your car in reverse, the navigation display will automatic give you the rear camera view plus the overhead 360-degree view so that you can safely park or back out of your parking space. However, there are also additional views that can be displayed.
Blind Spot Information System – This system is in place to help you when you are changing lanes. It is easy to miss someone in your blind spot when you are changing lanes, but the Blind Spot Information System will detect vehicles in an adjacent lane, and an indicator will appear to alert you that someone is in your blind spot. If the driver activates their turn signal while someone is in a blind spot, there will be a buzzer alert.
Vehicle Stability Assist – The Vehicle Stability Assist or VSA system uses several sensors as well as ABS to help avoid oversteering or understeering. This system continuously monitoring the speed of the vehicle, the steering angle, the lateral G-force, and the individual wheels speeds to help keep the vehicle as stable as possible. If there is a potential for oversteer or understeer, the system will apply the brakes to the needed wheels to make sure the vehicle stabilizes.
As you can see, the standard and available safety features make the 2020 Acura RLX a car that should be on your list. This vehicle keeps you and your loved ones safer when you are on the road.
Overall, the 2020 Acura RLX has a lot to offer you. There are impressive safety features, some advanced technology, a luxurious interior, and an impressive performance that can all be found in the 2020 RLX. Acura is proud to bring you impressive luxury vehicles. If you are interested in the 2020 Acura, you can come down to Sunnyside Acura to talk with us. We can help you find the vehicle that matches perfectly with the needs of your lifestyle.