2019 Acura NSX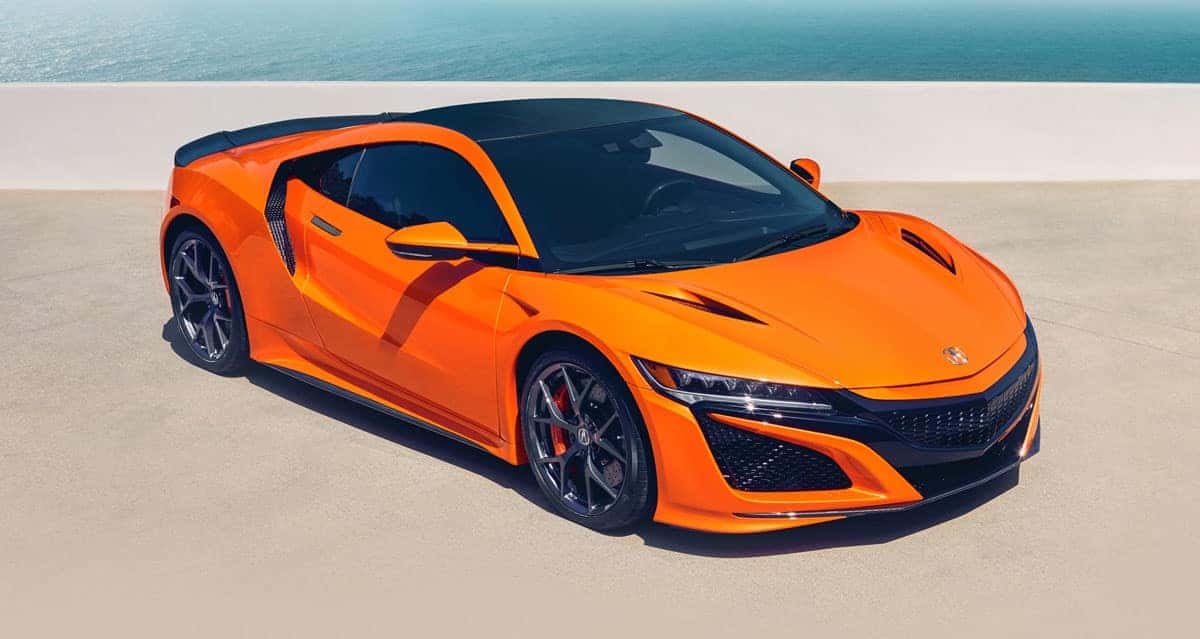 If you are looking for ultimate performance and luxury, you should check out the 2019 Acura NSX. This vehicle finds itself in the luxury sports car segment because it gives you an exhilarating performance and it is made from very high-quality materials. Learn more about the design, performance, and interior of the 2019 Acura NSX below.
Beautiful Design
You get beautiful engineering and design with the 2019 Acura NSX. This vehicle follows Acura's Precision Crafted Performance mantra.
The engineering all starts with a skeleton from Ultra-Rigid Space Frame that optimizes dynamics and performance. Factors like physics, motion, mass, and geometry are all taken into account when designing this vehicle so that you can get superior performance as well as a beautiful design. The design of the Acura NSX tries to bring a sense of connectedness from the driver to the car so that the car feels like an extension of you.
With its exterior design, the NSX conveys grace and aggression. It is expertly sculpted to be eye-catching and aerodynamic. On the front of this vehicle, you can find Jewel Eye headlights that have LED lights to offer you added visibility. For added function and performance, you have visible fender peaks and hood vents. The front of this car also has long side mirror extensions for improved aerodynamics and visibility.
When you view this vehicle from the side, it looks smooth and powerful, but there are also features to enhance performance. On the side of this vehicle, you can find fender vents to help cool the brakes as well as flush door handles for uninterrupted air flow. The standard wheels on this vehicle were designed to give you strength with very little weight.
On that back of this vehicle, you have beautiful and functional design pieces like the Center High Mount Stop Light and the flying wing taillights. You also have added function with outer and inner exhaust outlets that are used depending on the driving mode. For example, the outer exhaust outlets are used in Quiet and Sport settings, while the inner outlets are used in Sport+ and Track settings.
We talked a lot about function when it comes to the design of the NSX, and that is because this vehicle was designed with a purpose. Yes, it offers you an unmistakable style, but that style is based on the function this vehicle needs to give you an incredible performance.
Performance with an Electric Kick
In the 2019 Acura NSX, you get luxury and performance rolled into one. This luxury sports car offers you an intense performance with a hybrid powertrain.
What powers the 2019 Acura NSX? The NSX is the home to a twin-turbocharged 3.5-liter V6 engine. This engine gives you 500-horsepower and 406 pound-feet of torque. However, that engine is also paired with three electronic motors and a nine-speed dual-clutch automatic transmission.
The added electric performance is not for fuel efficiency, but it is for an improved dynamic performance. This hybrid engine will give you direct electric torque improved acceleration and steering and braking. Those three electronic motors push the numbers up to a total output of 573-horsepower and 476 pound-feet of torque.
How does this hybrid powertrain offer you increased performance? The V6 engine and the electric motor both drive the rear axle. Then, two smaller electric motors known as a twin-motor unit are located in the front axle to give additional thrust. These motors can also vary the torque to each front wheel to give you more precision and control around corners.
In terms of handling, this vehicle is excellent. The 2019 Acura NSX has standard all-wheel drive and an Active Vectoring System that adds power or braking to certain wheels, which gives you an increase in stability while you are driving. The Acura NSX even offers you a few different driving modes to make sure you can get the most out of your vehicle's performance. The driving modes include Quiet, Sport, Sport+, and Track.
You get a heart-pounding performance with the 2019 Acura NSX. This vehicle offers you some great performance statistics. You can get from zero to 60 in 2.7 seconds, and from zero to 100 in 7.0 seconds. The standing quarter-mile for this vehicle is 11.2 seconds, and the 2019 Acura NSX offers you a top speed of 191 miles per hour. Those numbers speak for themselves, but you should go take a test drive just to be sure.
Inside the Cockpit
The interior of the 2019 Acura NSX offers you comfort immediately. It has two standard seats with perforated semi-aniline leather. These seats were designed for comfort and support, especially when you are driving at high speeds. You also get standard heated seats and power-adjustable seats in the NSX. You are surrounded in luxury with a genuine leather instrument panel, door panels, and a genuine leather steering wheel.
The genuine leather steering wheel does more than just look good. It was inspired by performance, so it was designed to help you have better control no matter what direction you go. The shape of this steering wheel allows you to see clearly over the top of it, and it gives you more leg room underneath. It also has finger holds to give you a better grip.
You also have some great standard technology in the 2019 Acura NSX. This car gives you an infotainment system with a 7-inch touchscreen, Bluetooth, a navigation system, two USB ports, and HD radio. You also get a premium ELS Studio audio system, LED ambient lighting, a proximity key, push-button start, and dual-zone automatic climate control standard.
For added safety, you get features like a multi-angle rearview camera, rear parking sensors, and emergency brake assist.
It is clear that the 2019 Acura NSX has a lot to offer you. This vehicle was engineered and designed to give you a top-notch performance, and it does. It also looks beautiful and offers some great features while doing so. Go check out the 2019 Acura NSX for yourself today.