Service Tips: Preparing Your Acura for Winter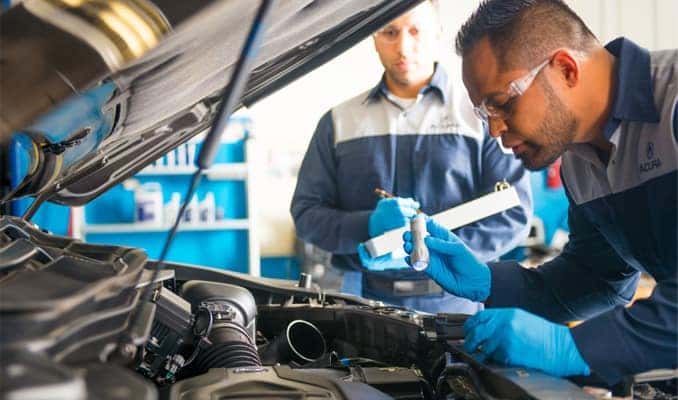 New Hampshire winters can be tough. That is why we want to help make sure that you and your car are prepared for the winter weather. Below, you can check out some tips for preparing your car for winter weather.
Check Your Tires

– Before winter hits, there are a few things you are going to want to check out in regards to your tires. First, you will want to check your tire pressure, and if it is low, be sure to put air in your tires. You will also want to check the tread depth of your tires to be sure your tires don't need to be replaced. You do not want worn out tires for the snowy and icy season because that can be dangerous. You also may want to consider putting winter tires on your vehicle because they could make a big difference for you in New Hampshire.

Check Your Oil

– You will also want to check your oil before winter hits. Be sure you have enough oil and that your oil does not need changed. Winter is not a time you want to have problems with your engine oil.

Check Your Battery

– It could also be a good idea to get your car battery tested before the winter season comes. When temperatures get colder, it can be hard on your car battery. In fact, if your car battery is getting older, you may struggle to start your car in the winter. Replacing an old battery is a good thing to do before your car won't start this winter.

Check Your Lights

– Checking your lights and bulbs can also be a good thing to do before the winter season. Make sure all the lights are working properly and clean them so that they can give you better visibility this winter.

Check Your Heater and Defroster

– Before ice and snow come your way, you will want to be sure your heater and defroster are working. This will keep you safer and more comfortable this winter.
Those are some great tips to help you be sure your car is ready for winter, but we will add in one more bonus tip to be sure you are ready for winter. This isn't a service tip, but it could be very beneficial. You should pack up a winter supply kit for your car. This winter supply car could help you if you get stuck or have car trouble in winter weather. Your winter supply kit should include a flashlight, a first aid kit, a blanket, extra clothes, a bag of sand or ice melt, water, and snacks. Be sure to put these items in your car so that you are prepared in case you have car trouble this winter.
Above, we discussed some service tips so that you can be sure your Acura vehicle is prepared for winter. If you have any questions about the service tips discussed above, or you would like to set up service for your vehicle, reach out to us at Sunnyside Acura.