Pre-Owned Acura MDX – New Hampshire

The Acura MDX is a great luxury SUV option. This vehicle is perfect for family road trips, business trips, and everything in-between. Buying a pre-owned Acura MDX could be the best decision you make this year.
Should I buy pre-owned? Buying pre-owned or even certified pre-owned can be a great option for many people. When you buy a newer used model of a vehicle, you can get an affordable vehicle option that you know is still in excellent condition. Many pre-owned vehicles have a lot of life left in them, and they are nicer on your budget.
The pre-owned Acura MDX might just be the perfect vehicle for you, but to find out for sure, you can learn more about it below. Below, you can check out more about the performance, interior feature, technology, and safety of the pre-owned Acura MDX. If you have any questions about this vehicle, you can reach out to us at Sunnyside Acura to learn more.
Performance and Engine Options
The Acura MDX has a great performance that many will envy. This vehicle is home to a 3.5-liter V6 engine that gives you around 290-horsepower. This engine is generally paired with a nine-speed automatic transmission. This is plenty of power to take on daily driving, as well as longer road trips. The steering of this vehicle is precise and effortless, and you can give your vehicle an even better performance with Acura's Integrated Dynamics System or the Acura Super-Handling All-Wheel Drive.
In addition to being fun to drive and getting the job done, the Acura MDX also provides you with great fuel economy for its class. This vehicle offers you a performance that can get you excited about all of your driving.
Exterior
The outside of the pre-owned Acura MDX is beautifully sculpted to give you an appearance that catches everyone's eye. This exterior also has some features that make it function better for you and your life. The Acura MDX is home to features like the Diamond Pentagon grille and some powerful LED headlights. This vehicle also has black and chrome accents to give you a great look. Then, with optional features like 20-inch alloy wheels, you can get where you need to go with effortless style.
Interior
When you look at a pre-owned Acura MDX, you will find a premium interior. This vehicle is made with high-quality materials, and it has an interior design that functions with your life. The MDX gives you heated front seats standard, as well as beautiful leather upholstery. The design of the interior with second-row captain's chairs and intuitive smart-slide access to the rear seats makes your life easier.
You also have some great cargo space that can be found in the Acura MDX. This vehicle gives you 15 cubic feet behind the rear seats, and a total of over 90 cubic feet when you fold down the second and third rows of seating.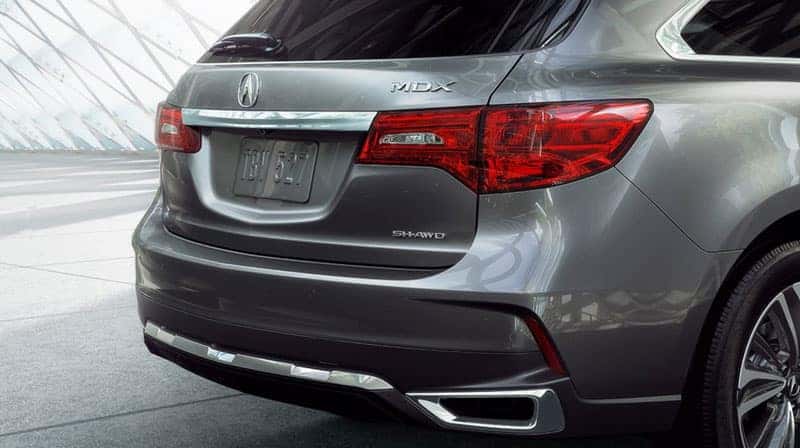 The Acura MDX only has one trim level, but there are some packages that may have been added on to your pre-owned model. These packages can add new features to give your vehicle extra technology, interior features, or style. Check out some of the packages that could be found on your pre-owned Acura MDX below.
Technology Package – The technology package includes some basic options like a navigation system, HD radio, and some safety technology features. These safety technology features can include blind spot monitoring, rear cross traffic alert, and more.
A-Spec Package – The A-Spec package is a newer option in the last couple of years, and this package puts exterior design at the forefront. This package gives you the option of exclusive exterior paint options, gloss black trim accents, exclusive 20-inch wheels, and more.
Advance Package – The advance package often requires the technology package already purchased, so you get everything from the technology package, as well as some great features for more interior comfort. The advance package typically includes features like premium leather seats, heated second-row seats, second-row captain's chairs, a heated steering wheel, and more.
Entertainment Package – The entertainment package also usually requires the technology package. This package adds some entertainment for your rear passengers, including a rear-seat entertainment system, a 110-volt power outlet, and a premium ELS audio system.
Not sure exactly what features a pre-owned Acura MDX has? Reach out to us at Sunnyside Acura, and we will be able to help you learn all about a specific pre-owned Acura MDX model. We can help you decide if this particular vehicle is the right one for you.
Technology
In the Acura MDX, you can find a lot of great technology features to keep you connected and entertained. Even when you buy a pre-owned MDX, there are a lot of technology features to be found.
The MDX offers you technology features like a dual-screen infotainment system where you can check out different apps, music, and more. There are also features like Bluetooth to help you go hands-free as you drive. With Apple CarPlay and Android Auto, your Acura MDX can stay connected to your technology. You can get access to phone contacts, music, apps, and more through your vehicle with these connectivity features.
Another technology feature that can be found in the Acura MDX is a premium navigation system. This feature helps you get exactly where you need to go without looking down at a map or your phone. The navigation directions can be found on an 8-inch LED screen that can keep your eyes up and on the road in front of you.
The Acura MDX also offers you premium audio systems, USB ports, and rear-seat entertainment systems. These technology features can be great for long drives, as well as short commutes. There is more to the MDX than just entertainment; this vehicle also has safety for the whole family. Learn more about this below.
Safety
Safety is an important part of the Acura MDX. This vehicle is built safer for you with things like the ACE body structure. This ACE or Advanced Compatibility Engineering focuses on providing the proper amount of rigidity where it is necessary and providing crumple zones in strategic places to help take care of you and your loved ones.
However, there are also features in the pre-owned Acura MDX that help prevent collisions. Some of this safety technology includes features like lane departure warning, lane keep assist, blind spot monitoring, rear cross traffic alert, collision mitigation braking, adaptive cruise control, and more. You can learn more about some of these specific safety features below.
Collision Mitigation Braking System – This system is designed to help avoid collisions or reduce the severity of these collisions. It uses sensors and radars to detect if there is a vehicle or obstacle in your path, and if it detects that a collision is imminent, this feature will apply the brakes to help avoid the collision or make the collision less severe.
Adaptive Cruise Control – Another safety feature that can be found on the Acura MDX is adaptive cruise control. This feature helps a person to maintain a safe distance from the vehicle in front of them. There are radars and cameras on the MDX that can detect if you are getting too close to the vehicle in front of you; if you are, your MDX will slow down on its own to maintain a safe distance.
Lane Departure Warning – This safety system will alert you if you are unintentionally drifting out of your lane. It can do this with an audial or visual alert to help you stay in your lane and stay safe.
Powerful Headlights – When you can see better at night or in poor weather conditions, you can drive better. Acura helps you do this with their Jewel Eye LED headlights that include fog lights to provide you with better visibility.
The exact safety features you can find on your pre-owned MDX depend on the model and the year, but most of these pre-owned vehicles have a lot of safety features watching out for you.
As you can see, the Acura MDX has a lot of great features and technology that could be great for you and your family. Buying a pre-owned MDX or even a certified pre-owned MDX could be a great option for you because it could be more affordable, but still of very high quality. If you are looking at purchasing a pre-owned Acura MDX, you should reach out to us at Sunnyside Acura because we can help you get started.