Acura MDX Lease NH for Sale in Nashua, NH
Many buyers look at the 2020 Acura MDX and believe owning one is simply out of their price range. It's too stylish and too luxurious on the inside to actually compete with SUVs from non-luxury brands.
That's one of the best parts of what we do at Sunnyside Acura! The amazing look of surprise when you explain just how affordable an MDX can be through an Acura lease in NH never gets old. In fact, it's something we look forward to each and every day.
So don't write off an Acura MDX lease because you assume it will be too expensive, or that you don't like leasing!
Keep reading to learn more about leasing an MDX, or give us a call at (603) 880-6550 and we'd be happy to answer any questions you may have.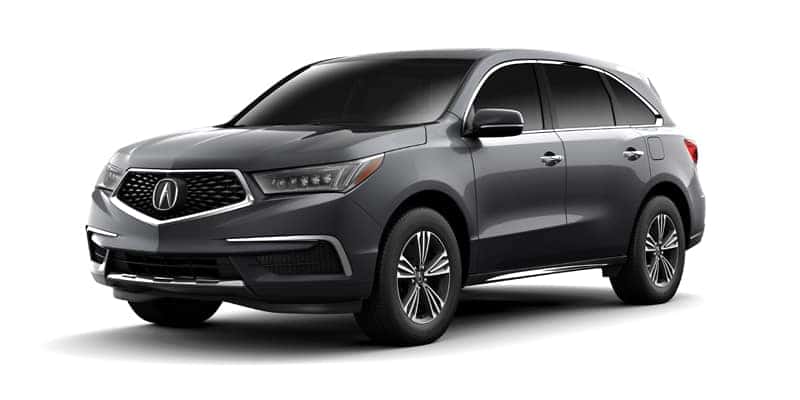 Learn About the 2020 Acura MDX
The 2020 MDX offers many unique package upgrades that offer incredible features without the confusion of hunting for a model with each individual option you're looking for. This is something that sets Acura apart from many other brands in the luxury car space.
Let's talk about the Advance Package for a minute. This is the best that you can get with the MDX models. You get second row captain's chairs, with heated and ventilated front seats that actually pull air from inside the cabin through perforation in the seats. It's one of six levels of ventilation just in the front alone.
Moreover, all MDX models come with "Acura Watch." It's Acura's safety and driver assistance package – standard on all Acuras. There are surround view cameras which place four cameras around the vehicle, uncovering blind spots and obstacles, also making it easier to park. No more bumping into other cars when parallel parking! You also get a 16.2-inch rear screen that you can either watch wide-angle shows and movies, or watch two different programs side by side.
So no more kids arguing what to watch while on a road trip to grandma's house. You also get remote start, navigation with HD traffic, ELS premium sound system and automatic high beams.
Why Acura Vehicles Make Great Leases
You may or may not know this, but Acuras are one of the top 10 companies that people lease from each year – especially millennials. Acura offers the Acura College Graduate Program, a $500 savings towards any 2020 or newer Acura vehicle (excludes NSX) when you finance or lease with Acura Financial Services.*
When you are looking for a car that fits your needs, leasing is a popular option for those that drive less than 15k miles per year. Acura also offers GAP insurance with the monthly payment, something that other companies do not offer. But what if you drive more than 15k miles in a year? Don't worry! Acura gives you the option to purchase more and guess what? That's right, that payment is lumped right in there with your monthly payment.
They also waive your turn in fee, if you trade-in before your lease term is up. But those are just a few things that make leasing an Acura great. The cars themselves do the rest.
How Acura Makes the Lease Process Simple
On top of all the safety and tech features that an Acura MDX offers, Acura Financing makes it extremely easy to lease. If you're applying online, you'll get an answer within one business day and they email you once you are approved. You also can always go in-person to apply, of course.
There are end of term flexible options, as well as flexible term options (anywhere from 24-60 months). For those that can and want to, Acura also offers a "one pay" lease option as well.
So let's review. You get "Acura Watch" standard. You get easy financing and terms. You get a 3.5L engine with FWD (or SH-AWD option), which provides solid fuel economy. This (and more) paired with the option to pay less upfront, makes leasing with Acura a no-brainer. Why not head down to your local Acura dealership and take the MDX for a test-drive today?
How Does Maintenance and Repairs Work with a Lease?
While leasing a car is often compared to renting, you are responsible for the cost regular maintenance. This part of leasing is no different than owning the car outright. The good news is, regular maintenance costs during a lease term are minimal best. And on top of that, you have options.The first option is to pay the costs out of pocket as they come up. As mentioned, these costs are limited in the first few years of an Acura lease. All you have to worry about are multi-point inspections, oil changes, tire rotations, air filters (cabin and intake), as well as various fluid upkeep (including the brake fluid and transmission fluid). Any issue that might occur with the mechanical function of the vehicle will likely be covered by the new car limited warranty.
The second option is to purchase an Acura Care Maintenance plan during the leasing process. These plans are designed to roll the cost of maintenance for the entire lease term into your monthly payment. This eliminates any out-of-pocket maintenance costs and allows you to worry about one less thing.
Repairs work exactly the same way as financing a new car as well. As long as the issue is covered by the limited, powertrain, or extra coverage warranty, you don't worry about the cost (if there's no deductible involved.)
Simply put: there's nothing special about maintenance and repairs when leasing an Acura. The only difference is there's a good chance you'll never experience any issues during the term of your lease!
Be Sure to Take Advantage of MDX Lease Specials
We know that you as the customer are always seeking special offers to get the best price on a new vehicle. That's why we encourage our customers to browse our Acura lease specials page to discover new offers available on most of the new models we sell. This is a great way to get behind the wheel of a high-class vehicle without the high-class price tag.
---
*The Acura College Graduate Program is limited to the 48 U.S. contiguous states, Alaska and Hawaii. For well-qualified customers who meet Acura College Graduate Program criteria, subject to approval by Acura Financial Services (AFS). Savings offer applies to any new 2020 or newer model year Acura (excludes NSX) when financed or leased through AFS. Only offered at participating dealerships. Only one $500 Acura College Graduate Program savings offer per vehicle. LEASE: $500 applied toward the cap cost of vehicle. Monthly payment and total due at lease signing are calculated after $500 reduction. Cannot be combined with Zero Due at Signing Lease program. PURCHASE: $500 applied toward down payment. Offer not valid on Acura Certified Pre-Owned or used vehicles. Offer valid through March 31, 2021, and may be terminated at any time.