Careers
Check out available careers at workatsunnyside.com and apply today!
Sunnyside Acura is seeking qualified applicants to join our team with a wide range of careers and opportunities.
Since we opened in 1988, several members of our team have come to our company as entry level staff and grown into high ranking employees. Through their determination and the guidance and training from our leadership team, several of these individuals were given the opportunity to take additional responsibility, and in many cases, achieve a position in management.
Our employees are what makes us who we are, we would not be where we are today without the dedication and pride our team demonstrates on a daily basis. At Sunnyside Acura we have a long history of helping people become great at what they do, and making sure they enjoy it. See available careers at workatsunnyside.com.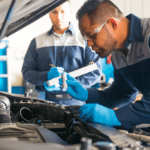 Sunnyside Acura has immediate full-time openings for individuals with 2 years minimum car and light truck diagnostic, service, and repair experience. Diagnostic skills and State Inspection license required. ASE certification and Acura or Honda experience preferred. Pay from $65,000 to $135,000 per year (based on experience) with a $10,000 Signing Bonus (probationary period applies).
We have a gifted team of individuals who all work to provide the finest customer experience anywhere. Join us and be part of one of the most highly recognized Acura retailers in the country. For immediate confidential consideration please email current resume and references.
Benefits:
• $10,000 Signing Bonus (probationary period applies)
• Closed Sundays
• 5-day work week with flexible schedule
• Paid Training
• Health/Dental/Life/
• Paid Short-Term Disability Insurance
• Long-Term Disability Insurance
• Flexible spending account (FSA)
• 401K plan (matching)
• Generous paid vacation and holidays, including your birthday!
• Company paid associate vehicle lease plan
• Employee Discounts (Parts/Accessories/Service/Sales)
• Company BBQs, Food Truck Days
• Personal Milestone Gifts
• Tuition Reimbursement
• Tool Reimbursement Program
• Weekly Pay Cycle
• Starbucks coffee in house
• State of the art facility
Go to workatsunnyside.com for complete position details and see for yourself what it is like to work here.