Amazon Now Delivers to Your Acura RDX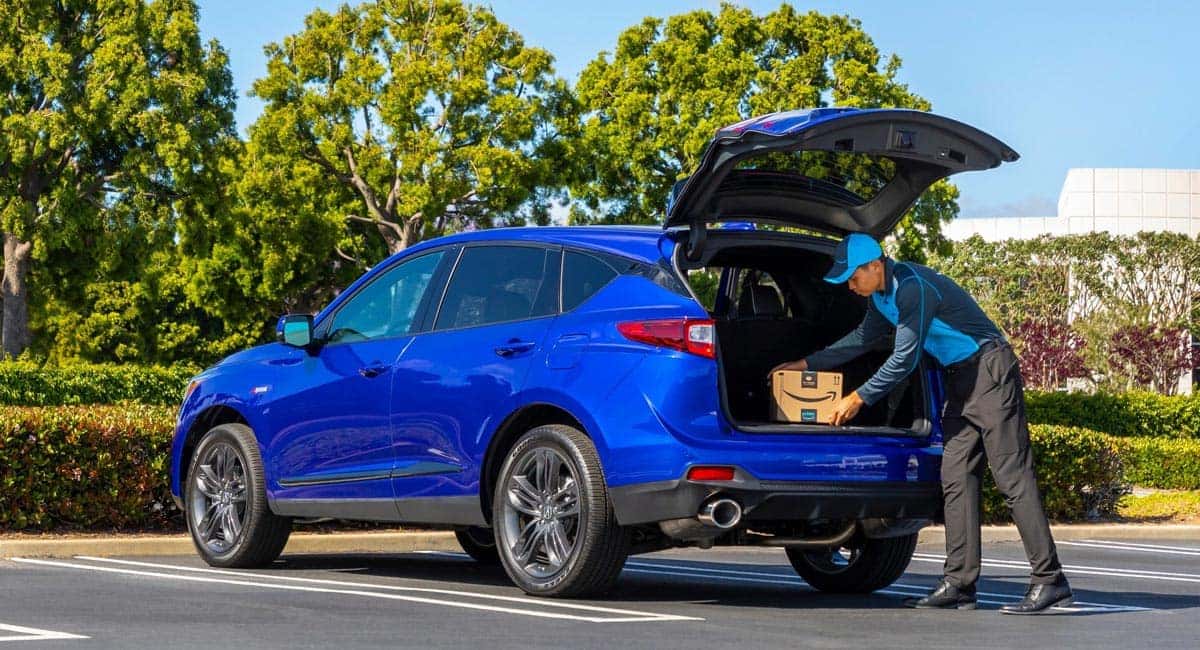 Acura and Amazon
As technology advances, we have more access to the things we need and want at the click of a button. Amazon and Acura are teaming up to give you more convenience but also more security. Learn more below about the new Key In-Car Delivery service and how it can benefit you.
Here are some common questions about this new delivery option so that you can get a better understanding of how it works for you.
What is Key In-Car Delivery? Acura and Amazon have teamed up to help you get your packages faster. With the new Key In-Car Delivery system, you can now get Amazon packages delivered right to your vehicle. This option is available for both same-day delivery and two-day shipping.
How Does it Work? This delivery system is available to those that have specific 2019 and 2020 model year Acura vehicles. They also need to have Amazon Prime and the AcuraLink service. Then, they simply order their package from Amazon, and they choose the in-car delivery option. On delivery day, they have to park within two blocks of the delivery address. They will receive two different notifications in regards to their delivery. They will receive a notification with a four-hour delivery window, and they will receive a notification when the delivery is arriving. The delivery person will find the vehicle with GPS, and they will request for the vehicle to be unlocked so that they can place the package inside.
Is It Safe? Acura and Amazon's Key In-Car Delivery system is a very safe option. This is not a system where you have to leave your vehicle unlocked for the package to be delivered. The delivery driver will use Amazon and Acura technology to request the vehicle be unlocked so that they can place the package inside. Then, they will request the vehicle be locked after they have finished. This leaves your package very safe in your vehicle. In fact, this might be the safest way to get a package delivered with all the porch pirates that go around to steal packages delivered to your home.
What Else Can My AcuraLink System Do? The AcuraLink system has a lot of advanced safety and technology features for you in addition to the Amazon in-car delivery service. AcuraLink offers you remote start and stop, remote lock and unlock, enhanced roadside assistance, a personal concierge service, and vehicle health reports. The AcuraLink system also offers access to cloud-based services and additional subscriptions. For example, parents can set speed alerts and geofencing for their teen drivers through the AcuraLink system.
As vehicle technology advances, it can make our lives easier and more convenient. Services like the Acura and Amazon Key In-Car Delivery can help you get Amazon orders when and where you need them. They can also help those orders stay safer with the security of locking your vehicle to keep your package safe. This can help you avoid someone stealing your amazon order off of your porch.
If you have additional questions about AcuraLink or the Key In-Car Delivery option, don't hesitate to reach out.