Acura Certified Pre-Owned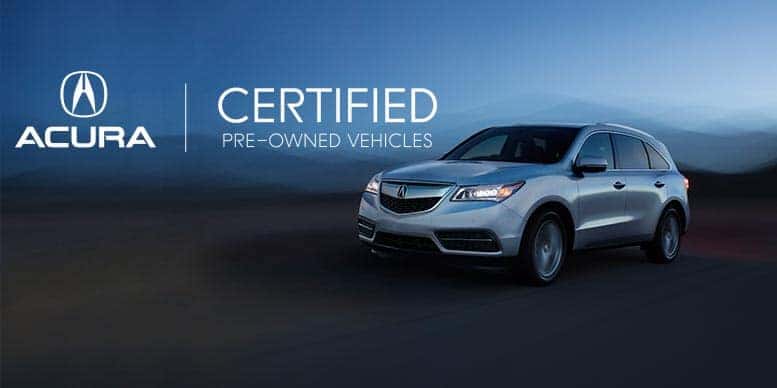 Although the Acura line first launched in the U.S. and Canada back in 1986, some consumers till don't realize that Acura is the high-end offering of Japanese automaker, Honda. Celebrated for its high-performance, refined, and luxurious ride, Acura models are increasingly popular, offering a significant edge over their Honda relatives. Backed by the motto, "Precision Crafted Performance," a certified pre-owned Acura is a solid choice for buyers looking for the best, while keeping to a budget.
What is the Certified Pre-Owned Acura Program? Simply put, it's a process by which used Acura models are reconditioned and resold with additional warranties and coverage than consumers might normally find from a traditional used vehicle.
These CPO programs are invaluable for any driver who wants to drive an Acura, enjoy features generally reserved for new model year vehicles, while saving money and enjoying peace of mind afforded by extra coverage.
Acura CPO Brochure Acura CPO Warranty Booklet Acura CPO Inspection Checklist
How Vehicles Become Eligible
So, how does an Acura model meet the standards set by the Certified Pre-Owned Acura Program? In order to be considered eligible for the Certified Pre-Owned Acura Program, the Acura in question cannot be older than six years or have more than 80,000 miles on its odometer.
Compared to other brand's CPO programs, that 80,000-mile mark is considered one of the highest available in the US. However, those buyers who want extra protection can access an Acura Certified Additional Coverage plan, which increases the life of the warranty from the initial 7-year or 100,000-mile powertrain coverage.
Provided the Acura meets the age and mileage requirements, it then continues to the Inspection Process.
Inspection Process
Having met age and mileage requirements, an Acura CPO-contender will undergo a thorough 182-point inspection and complete review of the vehicle's history by certified-trained technicians. Using the Vehicle Identification Number (VIN) these technicians can access a complete report, regarding the vehicle's previous ownership, condition, maintenance history, and any incidences of accidents or mechanical issues.
Warranty Details
The extra protection afforded by extended warranties and insurance is what makes CPO programs so attractive, especially to wary consumers. With respect to the Acura CPO program, drivers can expect a powertrain limited warranty good for seven years or 100,000 miles following the original date of purchase. A certified limited warranty extends for 12 months or 12,000 miles after the initial factory warranty expires, or from the actual date the CPO model was bought, in the event that the factory warranty had expired.
Optional coverage is provided by Acura's Care Certified Additional Coverage, which lengthens the terms of the powertrain warranty. By how much? That depends on specific dealership and model.
There is also no deductible for covered repairs and extended warranties can be transferred to a new owner, if current owner opts to sell before the extended warranty terms have expired.
Other Benefits

Although the inspection process and warranty offers are the prime reasons most consumers consider purchasing a Certified Pre-Owned Acura, there are other perks to these CPO programs worth mentioning. The following are specific to Acura and are additional reasons why a CPO Acura is a competitive choice within the pre-owned market.
Complimentary Membership to Acura Owners
This online portal alerts Acura owners to important service reminders and crucial details, regarding parts and services. Through this membership, owners of Acura models can access their service reminders, review their service records, book their vehicle's next service appointment, purchase parts and accessories, take advantage of special offers and discounts, and consult care tips.
Roadside Assistance
As with most brands, Acura's CPO offer includes roadside assistance, along with the Acura-exclusive Concierge Service and zero-dollar deductible, following repairs. Details of Acura's roadside assistance service include:
Roadside Service, 24 hours a day, 365 days a year, no matter where you are in the US or Canada.
Types of services offered by the roadside assistance program are as follows:
Battery jump start

Emergency fuel delivery

Emergency lockout help

Emergency towing, if necessary, to nearest Acura dealership

Flat tire change (spare tire must be available and in good condition)
The roadside assistance program also offers drivers a 24-hour Acura dealer locator, computerized map services and digital trip routing, hotel privileges directory, rental reimbursement and trip interruption benefits.
Concierge Services
Touted by Acura as "Services to Make Your Life More Manageable," the Concierge Services certainly deliver. Designed to enhance convenience and security of your Acura ownership and model, the Concierge Services afford the following:
Urgent Message Relay – The system will send a maximum of three urgent messages if you are unable to do so.

Special Emergency Service – Similar to the Urgent Message Relay, this Special Emergency Service is able to contact police in the event of an emergency, along with booking travel requiring unique accommodations, and scheduling emergency cash to be delivered by Western Union (note: this final service is personal credit-dependent).

Insurance Claims Assistance – Get help speeding up your insurance claim following an accident.

Auto Glass Replacement Referral – In the event that you need to replace the glass on your Acura CPO vehicle, the Concierge Service will refer you to an authorized business, or schedule on-site replacement, if that's more convenient to your schedule, location, and severity of the repair.

24-Hour Weather – Access information concerning weather conditions across the US, 24/7.

Shipment of Personal Replacement Items – If you are away and neglected to bring your medication or glasses, the Concierge Service will ship whatever you need, on an emergency basis.

Emergency Airline Ticketing – Should your Acura be inoperable, the Concierge Service will schedule flights, airfare, and deliver the tickets directly to you.
Reasons to Choose a Certified Acura
For all the reasons above, choosing a certified Acura model is really a no-brainer. Additional perks include Rental Reimbursement and a 3-month complimentary trial of SiriusXM satellite radio. You can't put a price on peace of mind, but the Certified Pre-Owned Acura Program comes close.
In fact, a quick check of the "Best Cars," according to U.S News & World Report shows that Acura offers more than the majority of its rivals' CPO program. For instance, consider Acura's 182-point inspection. That's 21 points higher, compared to Lexus, which evaluates its CPO candidates off a 161-point inspection. Or, what about Infiniti – only 167 points are required for a vehicle to earn that CPO designation. The next closest number of CPO inspection points comes from Cadillac, but even that falls shy of Acura's by ten.
What's more, few of these competitors provide those beneficial extras, like Acura's Concierge Services. Also, many of these other brands do insist on a deductible following repairs and various parts replacement. In some cases – take BMW – the deductible is $50, while Audi tops out at $85.
All told, Acura simply offers more for less when it comes to reliable and affordable CPO vehicles. Given that the brand has kept up with the evolution of in-car technology, particularly with respect to communication, accessibility, and safety, it's reasonable to expect that a CPO Acura will offer the same, or very close to the same, bells and whistles as those found on brand new models.
Consult with your Acura dealership about the Certified Pre-Owned Acura Program and experience the difference between a CPO and used vehicle. In some cases, drivers might have a hard time believing the car isn't part of the latest Acura inventory.