2020 Acura NSX – New Hampshire

If you are looking for exceptional performance, you will want to check out sports cars like the Acura NSX. This vehicle is not your average sports car because it has a hybrid powertrain. However, this hybrid powertrain allows for an even more intense performance for you. Every part of the Acura NSX from the exterior design to the features allows for the best performance possible. You can learn more about the 2020 Acura NSX and all that it has to offer you below.
Performance and Engine Options
The 2020 Acura NSX was built for extreme performance. This vehicle can get you from zero to 60 miles per hour in just 2.7 seconds. This vehicle has an engine that produces 573-horsepower. It is also a unique powertrain option. Let's take a closer look at how the Acura NSX provides you with this intense performance below.
The powertrain in the Acura NSX is a hybrid option, but this vehicle is not a hybrid for increased fuel efficiency. In fact, the hybrid part of this powertrain allows for increased responsiveness and performance. There are several parts that work together to give you this 573-horsepower engine. Check out these parts below.
Twin-Turbo 3.5-liter V6 – The gasoline engine is a twin-turbocharged 3.5-liter V6 engine. This engine is mid-mounted, and it gives you 500-horsepower and 406 pound-feet of torque all on its own. However, when you pair this engine with the electric motors, you see an increase in power and performance.
Direct Drive Electric Motor – The Direct Drive Motor is located between the V6 engine and the nine-speed dual-clutch transmission. This motor helps you get an instant response for immediate acceleration and torque.
Twin Electric Motor Unit – At the front of the Acura NSX, you can find the Twin Motor Unit. This motor unit is located by the front wheels to give immediate torque and acceleration.
Intelligent Power Unit – The intelligent power unit is located behind the seats, and its job is to direct energy to the electric motors in the front and in the rear.
As you can see, the gasoline engine, the intelligent power unit, and the electric motors work together to increase the performance of this vehicle. This vehicle also comes with a nine-speed dual-clutch transmission that gives you smooth and quick gear shifts. When all of this comes together, you have a vehicle that produces 573-horsepower and 476 pound-feet of torque. The 2020 Acura NSX can get you from zero to 60 in just 2.7 seconds, and this vehicle has a top speed of 191 miles per hour.
We have talked about the impressive powertrain, but what else contributes to the amazing performance of the 2020 NSX? This vehicle gives you amazing driving dynamics with several other features. One of these features is the Sport Hybrid Super Handling All-Wheel Drive. This all-wheel drive paired with the electric twin motor unit ensures that you get the right amount of torque to each wheel to give you ultimate control and precision on turns. This vehicle is also home to high-performance Brembo hydraulic brakes that give you the ability to stop wherever you want.
The 2020 Acura NSX also features four different driving modes to help you get exactly what you want out of your performance. Check them out:
Quiet – Quiet mode is your all-electric mode. This vehicle is nearly silent, so it is great for driving through town.
Sport – Sport is your standard mode for the 2020 NSX. This mode gives you an agile and athletic driving experience. This type of drive mode is great for city driving.
Sport + – Sport + mode is great for the open road. This mode gives you faster shifting, explosive acceleration, and improved agility compared to your normal Sport mode.
Track – Finally, Track mode is for circuit driving. This mode is for when you have come to race. Track mode gives you the most aggressive settings, and it keeps the battery charged exactly how you need it for the best torque and responsiveness. With Track mode, you also enable Launch Mode Control, which allows you for maximum acceleration for drag-type racing.
As you can see, Acura took performance seriously when creating the Acura NSX. The hybrid powertrain is not for increased fuel efficiency; it is for optimal performance. This vehicle is exhilarating to drive with an amazing powertrain and some great performance features. However, the engine is not the only thing the 2020 Acura NSX has going for it. Learn more about the rest of this vehicle below.
Exterior
The 2020 Acura NSX looks like a sports car. This vehicle has an aggressive front end, bold sculpting, and graceful elegance. The exterior of this vehicle looks great, but it is also built to bring you an expertly crafted performance. For example, this vehicle has a bold front grille and side grilles that look great; however, behind these front and side grilles, you can find seven heat exchangers to help cool the engine, transmission, and other components to keep this vehicle running well.
The exterior of this vehicle also has features like aerodynamic side mirrors that give you better visibility and prevent air disruption. This vehicle also features flush door handles that make this vehicle more aerodynamic. The door handles pop out when the smart key is near, but all other times they allow for uninterrupted airflow. There are also fender vents that help to cool the brakes and reduce pressure in the wheel well. On the back of this vehicle, you have outer exhaust outlets that are used in Quiet and Sport modes, while inner outlets are used in Sport + and Track modes.
As you can see, the exterior was built to help this vehicle perform better for you. Everything on and in the Acura NSX was designed with performance in mind. Learn more about what you can find on the inside of this vehicle below.
Interior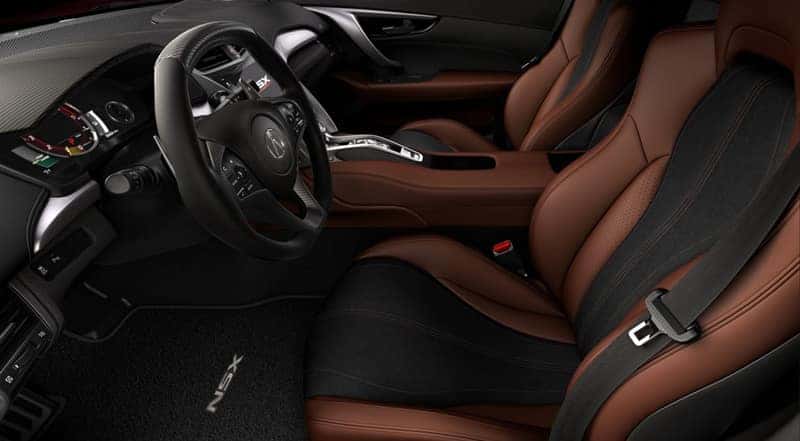 The Acura NSX is a luxury sports car. This vehicle has seating for just two people, but it is spacious and comfortable. This car gives you standard heated seats. You also have the choice between four-way power-adjustable seats with semi-aniline leather and Alcantara upholstery or Milano leather seats with Alcantara upholstery. The interior of this vehicle also gives you features like dual-zone automatic climate control, proximity keyless entry, a push-button start, and ambient lighting.
The interior of the 2020 NSX is designed to bring you comfort, but it is also designed to be a cockpit that focuses on performance. Features like the steering wheel are focused on bringing you a better performance. The steering wheel was inspired by racing, so it gives you a flatter top and bottom for a better view and more leg clearance. The steering wheel also has tailored leather and finger holds to give you a better performance. Features like that give you a cockpit that is designed for comfort and for performance. This vehicle also has some great technology features you can check out below.
Technology
The Acura NSX has a lot of great technology features for you. This vehicle comes standard with a 7-inch touchscreen, an infotainment system, two USB ports, Bluetooth, Apple CarPlay, Android Auto, Siri Eyes Free, and a premium ELS Studio audio system.
The technology like Bluetooth, Apple CarPlay, Android Auto, and Siri Eyes Free allows you to connect with your smartphone through your car. That means you can go hands-free with answer calls, playing music, connecting to your apps, and more. The 7-inch touchscreen and infotainment system have a user-friendly interface, and they provide you with some great technology. The ELS Studio audio system has nine speakers and including a front center speaker, a rear center speaker, left and right door speakers, and more. This gives you a premium audio experience from the already impressive Acura NSX.
Safety
The Acura NSX also gives you some great safety technology to look out for you. There are advanced safety features that include rain-sensing windshield wipers, parking sensors, automatic high-beam headlights, emergency brake assist, and a rearview camera with dynamic guidelines.
From its intense performance to its great technology, the 2020 Acura NSX has a lot to offer a sports car enthusiast. This vehicle is exceptionally fun to drive, but it also provides you with comfort and safety. Acura focused on every aspect of this vehicle to craft it for superior performance. If you have any questions about the 2020 Acura NSX, you can reach out to us at Sunnyside Acura.